James "JJ" Ross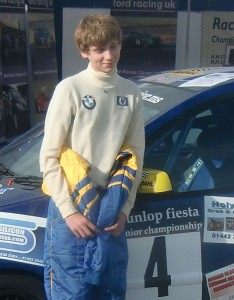 James started his driving career aged just 8 years old at Letchworth. This was the same track which Lewis Hamilton began his career.
Aged 9, James aquired his carting licence Comer Cadet Rye House / Kimbolton / Shenington / Whilton Mill. Karting Championships Won races and   podiums at novice level.
He set the fastest lap and won heats at national level. He competed in the London Cup & "Ace & Kings" for Hoddesdon Kart Club.
Supported by Stuart Ziemelis ( 3 times UK Gearbox Champion ) of SRS Racing with SRS Racing tested 125 cc minimax and was quicker than the championship contenders!
Aged 12 James started Driving Peugeot 205 GTI at Langley Park Rally School with Simon Clark owner of Langley Park at Rally School. most weekends.
Aged 13 James tested Saxmax at Bedford Aerodrome.
Aged 13 1/2 James achieved his adult Racing Licence at Brands Hatch with 100% on the written Paper and A + A** on his driving
Aged 14 James in 2011 took part in a demo race at Lydden Hill circuit. Then another demo race at Brands Hatch Fourmula Ford Festival.James did some impressive lap times, just 1.2 seconds a lap slower than the fastest set by the seniors