Results News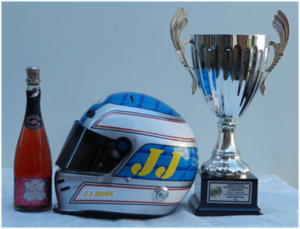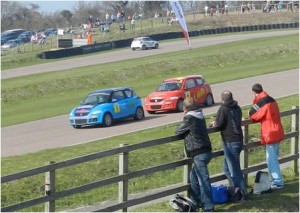 James wins at Lydden Hill. On the 24 March it was the first round of The British Rallycross. James "JJ" Ross as the commentator has nicknamed him, drove the prize car he won at Prodrive the Suzuki Swift Sport run by Peter Gwynne Motorsport.
We arrived at Lydden 4pm Friday with no idea of Rallycross. Peter welcomed us. One of the officials talked us through the rule.
James JJ had to drive 3 laps to show the officials that he was able to race. Then a 3 lap practice race, car bounced over the bumps and JJ bounced around inside. He was worried and not very happy. 1st heat out of 3 he finished 3rd coped ok. 2nd heat finished 2nd getting better, on the 3rd heat he finished 3rd and was very disappointed.
Suited and booted 40 mins before the Final, James sat in his car with the doors shut, you could see him analysing all the info like a computer.
The Final
3rd on grid, James had the best start he'd had all day.
Lap 2: 54.49 sec – Good smooth driving.
Lap 3: 53.84 sec – Fastest junior lap time. Fast over bumps.
Lap 4: 54.17 sec – Kept his cool under pressure over the line with no mistakes.
James finally past the finishing line in 1st position – Race Win (Red Car No6) – Well done James ! (read more…)

24 February 2012
James won the Peter Gwynne Rallycross Academy award. The contest was held at Prodrive test track in Warwickshire. The test was to drive a Junior Suzki Swift Rallycross car round the Prodrive track.  Two practice runs and one timed and a media test.
James superb driving impressed the Judges and acquitted him self well with the media test.
James`s prize is to Race a full works backed Suzki Swift in the First Round of The British Rallycross Championship at Lydden Hill Circuit, Kent on the 24 March 2012. which will be shown live on ITV and MOTORS TV